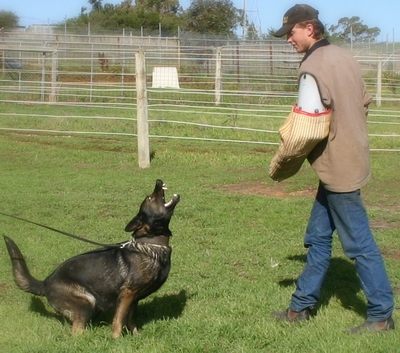 "Fanta"
AVA Hips (2.3) Elbows (0/0)
(Sire: Tom z Pohranicni Straze CS SP-PS,ZVV1,OP1 5CVQ1/P X Dam Irsa z Lipin CS ZVV1 5CV1/p
Fanta is an excellent product of the well known Kottorps Kennel in Sweden,she is a highly driven dog with strong civil drive and a temperament that is equally suited for the sport field or as a service dog.She is a daughter of Tom z Pohranicni Straze CS SP-PS,ZVV1,OP1.Tom is a top producing sire of working dogs with progeny having won the Czech police dog championships 4 times in a row.Tom is a son of the super producing dog Cordon An-Sat CS ZM,ZVV3,IPO3.Fanta is also a grand -daughter of the well known working dog Art z Lipin CS ZVV1,IPO3,SchH3.Art has gone down in history as the best protection dog ever in world championships.He scored 99 in protection on 3 seperate occasions at world championships(FCI,WUSV) and represented Czech 4 times in WUSV and 4times in FCI world championships.Fantas great grandsire Grim z Pohranicni Straze CS ZM,ZVV3,Sch3,IPO3,also scored 99 at the world championships in protection.Fantas brother in Sweden, Kottorps Faxe BHP3,IPO3 placed 10th at the Swedish IPO nationals and was the youngest dog at about 2 yrs of age.He was then taken into the police force and at the Swedish police dog championships he placed 2nd.He was the only German Shepherd in the top 5.
The high level of success that Fanta has achieved as a broodbitch is no accident,it is a direct reflection of her outstanding bloodlines,physical soundness and exceptional drives.The strength of those bloodlines and the high level of success already achieved as a broodbitch would tend to suggest that Fanta has the necessary qualities to emerge as an influential dam-of-dams in the not to distant future.
Fanta has been retired as a brood bitch ,but we are extremely confident that the daughters and grand daughters of this supreme matriach will provide us with a rich source of top class working dogs for many years to come.
Pedigree for

Kottorps Fanta


AVA Hips (2.3) Elbows (0/0)

Sire

Tom z Pohranicni Straze CS SP-PS,ZVV1,OP1

Sire




Cordon An-Sat CS,ZM,ZVV3,IPO3

Sire




Car pod Molnosskou CS ZM

Dam




Bojka pod Zoborskou Banou CS

Sire
Iran z Hornich Plesu CS

Sire




Kaso Z Pohranicni Straze CS

Sire




Iwo vd Buschecke DDR

Ema z Pohranicni Straze CS

Dam




Majka Z Blatenskeho Zamku

Sire


Kass vFurstendamm DD

R

Dam




Klara z Pohranicni Straze CS

Sire




Din z Pohranicni Straze CS

Sire




Cak z Labskeho ramene CS

Sire




Grim z Pohranicni Straze CS

Tina z

Pohranicni Straze CS

Omar z Blatenskeho Zamku CS